Esophageal Biopsy in a Patient with Alkaline Esophagitis*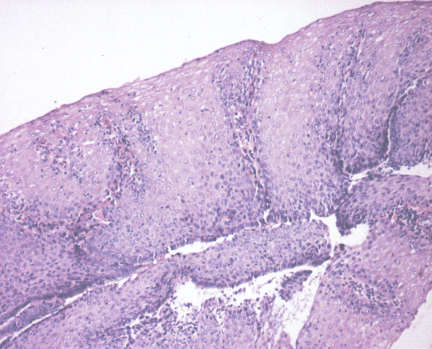 Papillary Height is more than 90%, and Basal Zone Thickness is more than 30% of total mucosal thickness. Inflammatory cells and cellular atypia are also evident. (H&E stain x 200) These findings are similar to pathology findings in chronic acid reflux.
We have observed that pathology findings in patients with chronic bile reflux esophagitis are similar to acid reflux. Papilary Height > 1/2 and Basal Zone Thickness > 1/6 are considered as positive evidence for chronic Reflux Esophagitis (Arch Pathol 1975; 99:387-391).
For more information on Alkaline Esophagitis, you can refer to the following study:
Clinical Endoscopic and Pathologic Manifestations of Bile Reflux Esophagitis
* Slide provided by Dr. Mazen Duwaji of Pathology Department at the Caritas Norwood Hospital, Norwood, MA.